Climbing a mountain often takes months or years of hard work, both from actually climbing it and from getting ready to do it.
Creating or marketing a successful business is very similar. It takes years of hard work to learn, experiment and practice on the way to success.
Most of the articles that I write on my blogs are catered towards intermediate to experienced marketers and those with a business website.
But that's not fair.
Every once in awhile, I get an email from a reader (yes, I do read them all), where they tell me that they loved an article I just published – I love that. But, they tell me that most of the content goes way over their head.
Sometimes, I forget about those readers who are preparing to take their first steps up the marketing mountain, some who only have their first domain name registrar confirmation. Many are trying to decipher how to use a website template.
If you're one of those readers: I'm sorry. But today, hopefully, I can make it up to you. I realize you aren't a website builder, nor do you understand web design.
The most common question I get from beginner readers is along the lines of: "how do I get a website up and running so that I can start testing marketing tactics?"
It's a great question. And, it's one that deserves an answer.
Today, I'm going to go through the process of getting a website up and running from scratch. I've broken it down into clear steps and I have tried to make things as simple as possible. Everything from a site builder, perhaps using a website template to web design and using social media to develop your new business website.
Ready? Let's go…
Set up Your WordPress website
To create your new WordPress blog, you need to have the following in place:
Domain name: Your domain name is your online address. This is what people will type in to get to your website. You can buy a domain from a domain registrar like Godaddy or Namecheap.
Web hosting: You also need to have a web hosting package. This is where all your website files are stored so that anyone anywhere in the world can access your website content when they visit your site.
Recommended Webhosting: Siteground
Many web hosting platforms allow you to install WordPress with a single click. You can use a hosting service like Bluehost to create your site.
Once you've set up your website, you'll be able to enter the admin area by logging into your WordPress login URL. It will look like this: www.yourblog.com/wp-admin.
You can enter your username and password which you set up during the WordPress installation. This takes you to your dashboard where you will find all the options you need to create your content.
Add a theme
A brand new WordPress won't look very appealing. This is because it doesn't have any content on it and because it's using a default theme and setup.
You can add a theme to your site to make it get the aesthetic and feel you want. To do this you need to add a paid or free theme and activate it on for your blog. This is easy to do, just click on Themes under Appearance in the menu and then Add New.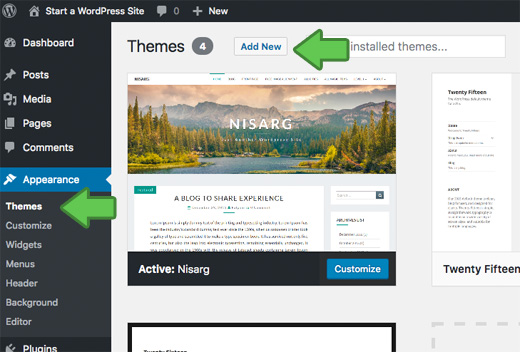 There are plenty of free themes available in the WordPress repository that will match the color scheme and appearance you like. However, it's a good idea to consider a paid theme since you'll get great support from the developers.
Recommended Themes:
MyThemeShop | Studiopress Themes | Thrive Themes
Customize WordPress with Plugins
One of the best things about working with WordPress is that you can add almost any functionality with plugins.
You can create your own membership site platform or boost SEO with plugins. You can integrate email marketing services and social media on your site. You can also add a contact form. Use free and paid plugins to get added functionalities to make your blog do anything you want.
Features that launch your website toward success
While you've had a look at everything you need to do to start your blog, you've only covered the beginning. Let's explore the important features you need to incorporate into your blog to make it grow.
Analytics
The saying 'What can't be measured, can't be managed' holds true for blogs as well. Adding Google Analytics is one of the most helpful things you can do to make sure that your website is off to a successful start. Incorporating analytics gives you many insights:
The number of readers or visitors on your site
The average time spent on your blog
The pages and posts that get the most views, so you can optimize them
User demographic information
Google Analytics can provide you with even more information on your blog. You can add analytics to your blog either manually or by using plugins. Using analytics from the beginning lets you track your blog's growth and tells you where you need to improve.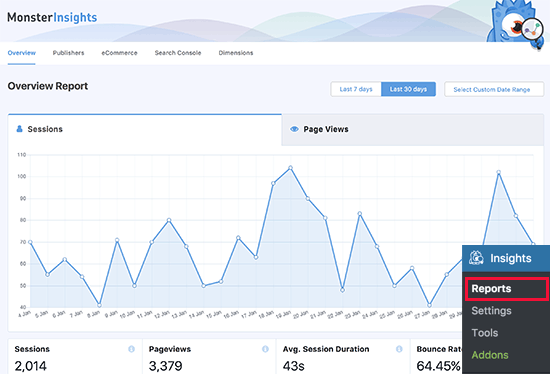 Keyword Research
Doing keyword research gives you actionable insights that help impact the SEO of your site with relevant content.
Doing keyword research early on lets you understand what your users are looking for and what their intent is. Finding the best keywords to write about gives you the power to create relevant and helpful content.
This creates value for visitors as your content will be exactly what they are looking for. Visitors spend more time on your blog and this has a positive impact on SEO.
Social media marketing
Billions of people are active on social media every day. It's important to make use of social media platforms to reach out to an audience that is looking for engaging content.
You can leverage social media by creating pages and profiles for your blog. It's a space where you can share your posts to groups that are interested in your domain. Use visual media like images and videos along with written content.
Working on social media marketing from the start will help you leverage social media from the launch date.
It takes time to build your list of followers and your presence online. Create social media profiles and content right away and engage with your audience. This will help you drive traffic to your blog and create conversions.
Regular High-Quality Content
Successful blogs are ones that have good quality content posted on a regular basis. Your blog won't take off if you post intermittently or are waiting for inspiration to make content.
Setting up a content calendar and planning your content in advance is important for your blog's growth. This shows your readers that they can rely on you for helpful information. It also impacts SEO as search engines reward blogs that keep their content fresh.
Creating blog content on a consistent basis is the foundation of any successful blog. Create a content plan and commit to posting content at least once a week for your readers.
SEO Optimization
Optimizing your blog for SEO should not be an afterthought. Planning for SEO even before you begin designing your blog will prevent having to make major changes to your site later. Your keyword research, page structuring, navigation, and more all have an impact on SEO.
It can be challenging to add SEO to your blog once it's up and running. It takes a lot of time, effort, and resources to make navigational and structural changes once your blog is live. You also risk losing out on traffic by not using SEO strategies early on.
Building an email list
Every online business needs to have an email marketing strategy in place. Email marketing remains the most powerful way to get conversions.
Make sure that you are signed up with an email marketing service provider from the start. Add plugins to integrate email marketing with your blog.
Also add optin forms, popups, and calls to action to get people to subscribe to you. It takes a lot of time and effort to build an email list. Begin working on it right from the start to build an email audience.
Get your website right the first time
Making a successful blog is a challenging and rewarding experience. It's important to get started on the right foot so that you save time and resources.
There are many ways to optimize your blog so that there are no significant setbacks. You can add visuals like images and videos or incorporate podcasts. It's important to engage with customers on social media by responding to comments.
You can also use giveaway contests to drive up traffic and engagements. Making your blog a success is possible with dedication and hard work. By using the ideas given here, you'll be able to boost it from the start.